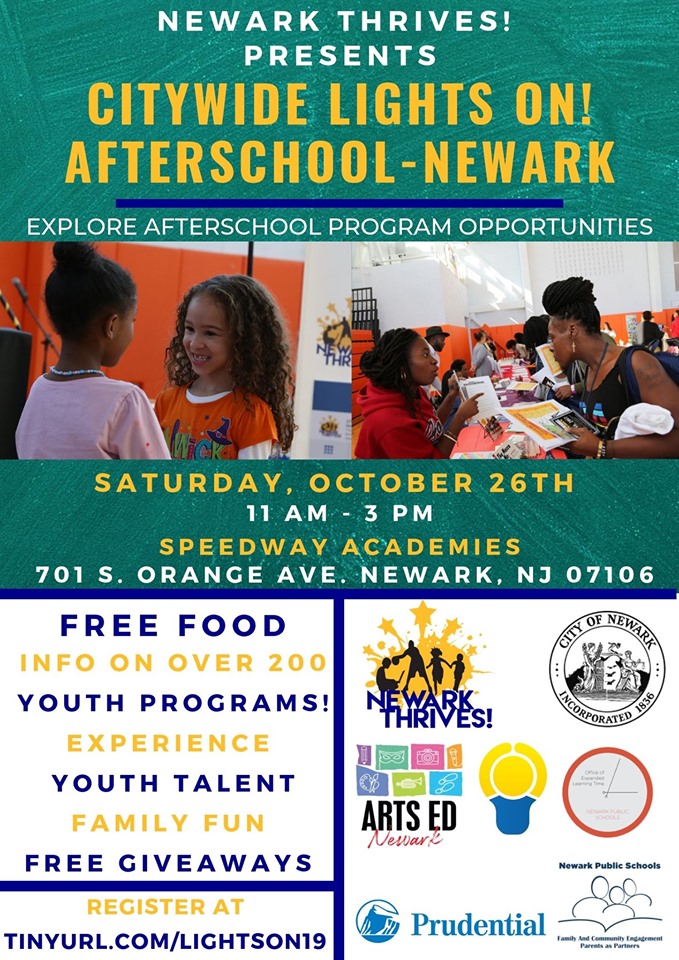 In partnership with OST program providers Newark Thrives! will be hosting "Citywide Lights On! Afterschool-Newark", on Saturday, October 26th from 11:00 am – 3:00 pm at Speedway Academies 701 South Orange Avenue in Newark, NJ . Lights On! Afterschool is a nationwide event celebrating afterschool programs and their important role in the lives of children, families and communities. Lights On! Afterschool sends a powerful message that millions more kids need quality afterschool programs.This event will provide a space for Newark community organizations and program providers to promote youth services and recruit young people to their youth programs. Newark youth and families will engage in hands-on learning activities and fun workshops, receive free food and giveaways and live entertainment from the Lights On! Youth Talent Spotlight Stage.
We invite Newark youth, families, educators, and program providers to join us in the celebration of Newark after-school programs and engage in this opportunity to learn more about programs & services available to young people within the community.
OST programs, and youth service vendors are strongly encouraged to REGISTER by Friday, September 20th at the link below to secure an informational table for this event: https://www.surveymonkey.com/r/LightsOn19
Thank you for your support! If you have any questions feel free to reach out to our Program Manager Shane Fuller via email at sfuller@newark-thrives.org or via phone 973-769-5169.