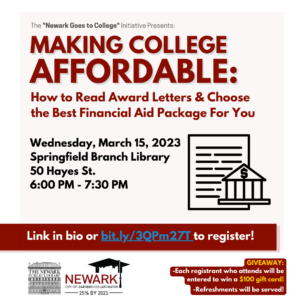 Are you graduating high school, a GED Recipient, or planning to head to college this fall? Join representatives from the ALI YMS College Success Centers, The Newark Public Library, and Newark City of Learning Collaborative to learn how to get in control of your finances to plan for college and beyond!
This workshop will teach students everything to know about how to interpret an award letter and select the most appropriate financial aid packages.
Parents/guardians encouraged to attend!
Event Information:
Date: Wednesday, March 15, 2023
Time: 6:00pm-7:30pm
Location: Newark Public Library, Springfield Branch Library
Address: 50 Hayes Street, Newark, NJ 07103
GIVEAWAY!*
*$100 gift-card raffle for all attendees who register in advance!