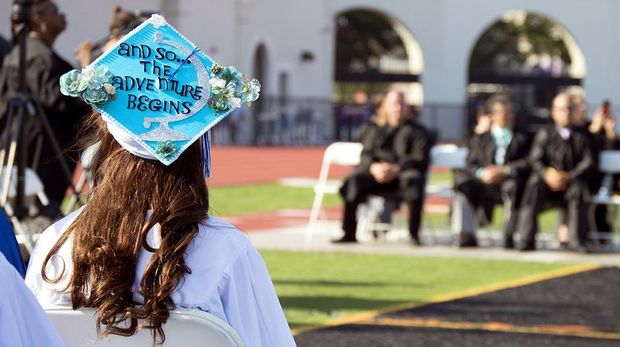 New report from the Newark City of Learning Collaborative and Rutgers University-Newark's School of Public Affairs and Administration highlights college-going trends
(Newark, NJ — July 30, 2018 ) Today, the Newark City of Learning Collaborative (NCLC) released Post-Secondary Outcomes of Newark High School Graduates, an analysis of what college-going looks like for nearly 13,500 of Newark's recent graduates. Housed at the Joseph C. Cornwall Center for Metropolitan Studies, NCLC is working to build Newark's college-going culture by ensuring that all Newarkers have the tools and resources needed to get to and through college. The report was produced in collaboration with the Rutgers University-Newark School of Public Affairs and Administration.
Covering approximately 85 percent of all Newark high school students who graduated between 2011 and 2016, the report examines college enrollment, persistence, and completion rates.
"The good news is that we know more Newark students are enrolling in college, but we also know that far too few are persisting to degree completion," says NCLC Executive Director Reginald Lewis. "We hope that this report will serve as a resource to better understand the experiences of recent high school graduates."
Post-Secondary Outcomes is truly groundbreaking because it is representative of graduates from traditional public, charter, vocational technical, and private schools. The report is the first of its kind, involving the participation of representatives from all of Newark's school sectors.
"The cross-sector collaboration was one of the highlights of the project and enabled us to examine college-going for a wide range of Newark high school graduates. One of our goals was really to put schools in conversation – not competition – with one another to learn and share best practices throughout the community," remarks the report's co-author Dr. Kristi Donaldson.
Newark Public Schools currently enrolls over 60% of all Newark high school students. Newly appointed Superintendent Roger León has already demonstrated interest in collaboration and making college-going and college persistence a priority for NPS students. "I would like to thank Rutgers–Newark, the Newark City of Learning Collaborative, and SPAA for capturing this important data on Newark Public Schools high school graduates over the span of the last six years," said Superintendent León.  "While these numbers represent improvement over previous years, they remain far from where we should be. Our goal in Newark and my commitment is to propel students in an upward trajectory. Our students can soar academically and can compete nationally."
Ryan Hill, founder and CEO of KIPP New Jersey, noted "the academic rigor of our K-12 education and the support we give our alumni and their families as they navigate their lives after high school have been critically important in helping our kids close the college opportunity gap and reach their potential." Hill also highlighted the importance of "collectively work[ing] to expand college opportunities for Newark students." In fact, KIPP recently supported a group of Newark Public School guidance counselors to attend their College Counseling Institute in San Antonio, TX, indicating greater interest in working together.[1]
With an increasingly large share of Newark students enrolled, Essex County Schools of Technology (formerly Essex County Vocational Technical Schools or ECVTS), made up the second largest subset of students in the study. Superintendent Dr. James M. Pedersen commented on the importance of Post-Secondary Outcomes by saying, "As we continue to improve our practices in preparing students to be successful in college and in the area of career-technical education, the findings and recommendations of this report will help us shape programs that hold students to high academic standards and spur better outcomes for them."
As the only private school involved, St. Benedict's Prep's Headmaster Fr. Edwin Leahy noted his enthusiasm in taking part in the project adding, "We are eager to share what experience has taught us about not only getting young men into college, but also playing a role in supporting them through it … [and] learning from the other participating high schools as we continue our work to ensure that an even greater number of our graduates receive their college degrees within four or six years of leaving us."
Ultimately, the findings of Post-Secondary Outcomes will help school leaders, educators, parents, and policymakers from across the city evaluate and strengthen the high school to college transition.
"This can help the city to make informed policy decisions to ensure as many young people as possible succeed at the college level," says Lewis.
Community roundtables in each of Newark's five wards are scheduled to take place this fall, beginning with a press launch at Newark City Hall in September.
To download the full report, click here.