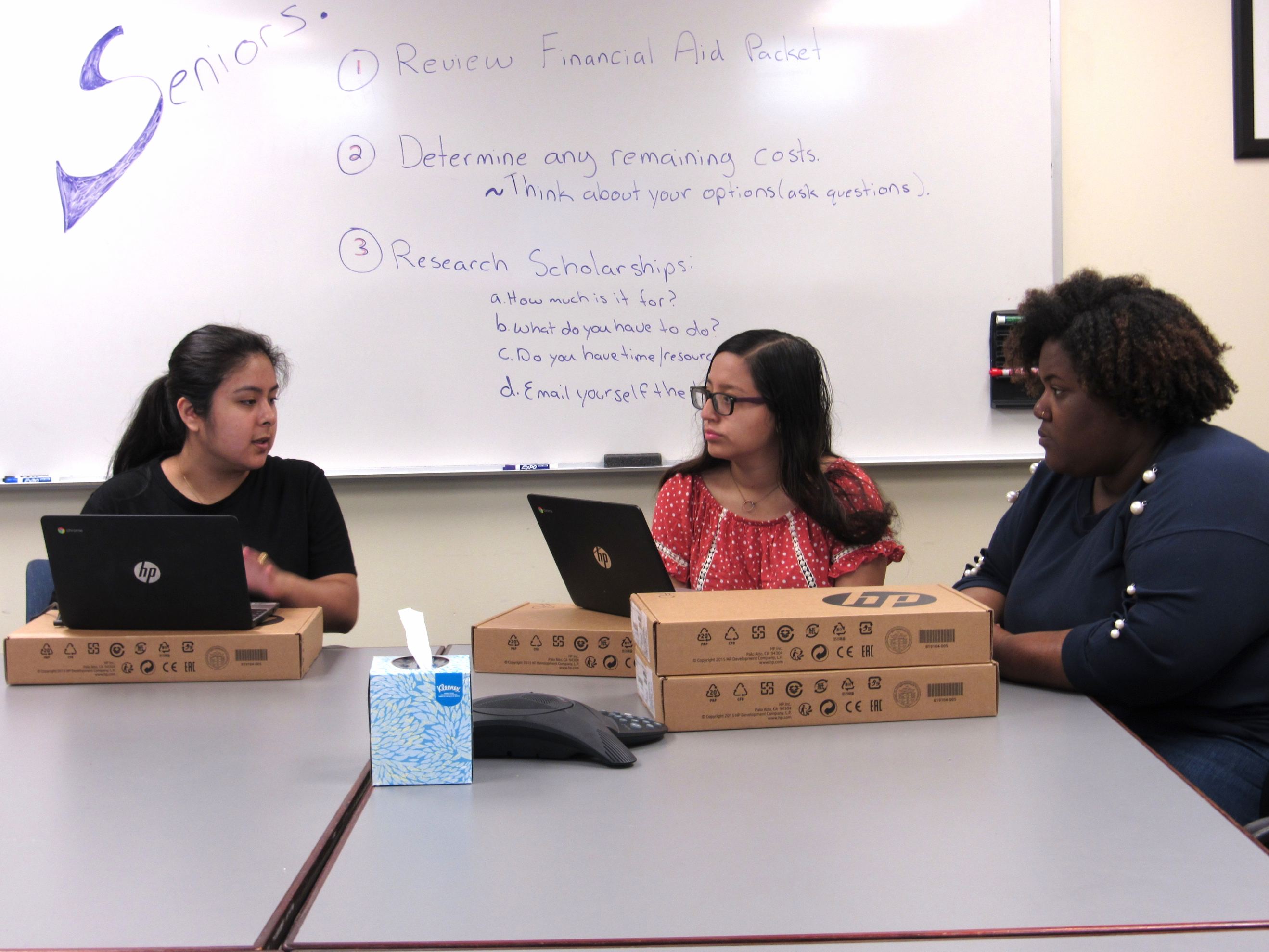 A CPI Fellow works with Program Associate Christine Harding (r.) and Mentor Lisbeth Masache (l.) to review her financial aid package.
(Newark, NJ — June 10, 2019) Newark's graduating high school class of 2019 will include 25 College Pathway Initiative (CPI) Fellows, almost all of whom plan to immediately enroll in college in fall 2019.
With support from the Kresge and Ford Foundations, CPI was launched in 2017 as a demonstration effort to test innovative strategies for engaging Newark high school students in college preparation. The Newark City of Learning Collaborative (NCLC) at Rutgers University-Newark manages the program.
"CPI is a demonstration effort because our goal is to test innovative strategies for keeping young people engaged so that they remain on track for three critical phases of the program," said NCLC Associate Director Barry Ford. "We want our Fellows to graduate high school on time, immediately enroll in college or some post-secondary option, and ultimately earn their desired degree or credential. And we'll be with them every step of the way through that process."
The current graduating cohort was the first recruited to participate at the time of CPI's launch. Each year since, NCLC staff have recruited a diverse group of Newark 10th graders for the program. CPI is currently on its third cohort.
Once Fellows are admitted to CPI, they participate in twice-monthly college prep programming. Beyond simply the typical college readiness activities – like SAT prep, FAFSA and application assistance, or college tours – CPI interweaves fun elements to pique student interest with two curriculum tracks in arts and social justice. In the arts track, Fellows work with local artists and Rutgers-Newark faculty in workshops that include portraiture and digital 3D modeling and printing. The social justice track engages Fellows in seminars on leadership, Newark's history, and youth advocacy. Keeping students interested is a key element to ensuring they remain with the program during their high school and college years.
"In [CPI] I learned more about liberal arts type, abstract ideas. That helped me grow – as a student and as a person. I used to be more shy, but [CPI] helped me become more self-assured. I had to do a college interview and if it wasn't for [CPI], I would have been so nervous. I was much more prepared than I would've been without them," said Technology High School graduating senior Keidy Alcantara who will attend NJIT in fall 2019.
Of the Fellows graduating high school this year, about 90 percent have indicated that they are enrolling in college in the fall. This is a big win because immediate college enrollment, or enrolling by the October after high school graduation, is a key indicator of eventual college completion. A recent NCLC study found that of Newark students who graduated from high school between 2011 and 2016, only 54 percent immediately enrolled in college and only 23 percent earned any type of degree or credential within six years.
Many of the first graduating cohort will attend colleges close to home, like Rutgers University-Newark, NJIT, Montclair State University, and Essex County College, a trend matched by most of their peers. NCLC found that approximately 67 percent of 2011 to 2016 Newark high school graduates enrolled in a college or university within 10 miles of Newark.
"As we enter the college enrollment phase for our first cohort, we will focus on working with our university partners to ensure that our students – and by extension all Newark students – get the appropriate financial, social-emotional, and academic support to persist toward degree completion. We are intentional about having partnerships with local colleges and universities for this very reason," said NCLC Executive Director Reginald Lewis.
To commemorate the high school graduation of the first cohort of CPI Fellows, NCLC is launching a social media campaign called #CPIFirstClass, which will highlight five graduating seniors. Follow NCLC on Instagram (@nclc2025) to read the Fellows' reflections on high school and how CPI has helped them in their transition to college.
For more information about NCLC, visit nclc2025.org.